Our 5 minute guide to choosing the PERFECT countertop for your kitchen
Please note: We're based in Kuching, Sarawak. In this post, we're going to try cover all the options available in Malaysia. If we missed something, or you have a request for us to review a particular material, please let us know.
Depending on your budget and expectations, your kitchen designer will usually propose a few different type of materials. The kitchen countertop can be made with several different materials. In Malaysia (and specifically Kuching, Sarawak!), the wood-based postformed countertop, granite, concrete, solid surface and quartz are some of the most common materials used.
Countertops.
Can you believe this one word can give homeowners a massive headache? There are so many options, different prices, different looks. How do you choose a countertop? What is value?
Ok…today we're going to have a brief outline about the several options available in Kuching/Sarawak. If there are any enquiries, just drop us a message and we'll try address it in the next post.
1. Granite/Marble
Well…this is a pretty standard material that we'll find in most medium-high end kitchens. Granite will last a long time with proper maintenance. Marble is my personal favourite, but it's a little challenging to maintain, as it is fairly porous. Take note that you should always ask the shop about the total charges including delivery and installation, as we have come across some complaints regarding this. To avoid any confusion, please clarify this with the shop.
2. Solid Surface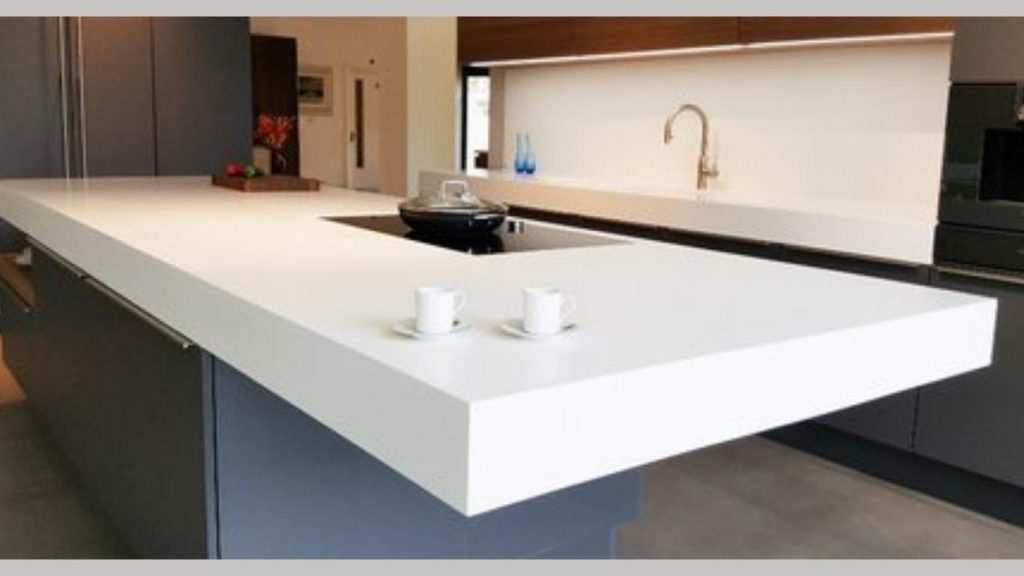 Credit: Aakar, PK
We've been using a lot of this material lately, not only in kitchens, but also in our other projects. This doesn't really come cheap, and if we're talking about the imported brands, the cost can deter a lot of homeowners. But there are a lot of benefits in using this material, and most designers will agree that the seamless look always accentuates the beauty of the original design. Solid surface will take some maintaining, and you should never request for a high gloss finish as it will never last. What you should aim for is a satin or matte finish.
3. Concrete top with tiles
This is the standard of most kitchens we see. Homeowners usually get their contractors to do the countertop and to tile it, before getting us to install the cabinetry or door panels. This is very durable and new technology in tile making has made this a very attractive option. I'm sure all Malaysians recognize this particular countertop.
4. HPL top
Credit: Spaces Kitchen and Wardrobe, Kuching, Sarawak
This is a fairly common countertop. It's cost effective and easy to work with. You have a fibre board with a laminated finish, and it just sits on top of the cabinets. This is a cost effective option, and easy to replace should the need arise. You need to pay attention to installation. I've seen plenty of houses with rotting cabinets, and guess where it starts from. Leaks which penetrate into the HPL countertop before damaging the kitchen cabinet carcass.
5. Compact board
Credit: Maica
A fairly new addition to the countertop family, this offers you a chance for a really sleek look. This material is easy to work, and a little pricier compared to HPL countertops. Thickness ranges between 9mm-12mm. Personally, I suggest the 12mm for a really sleek line. This material works well and is not affected by humidity so installation needs to be done properly. Maintenance-wise, I think this is an excellent option.
6. Onyx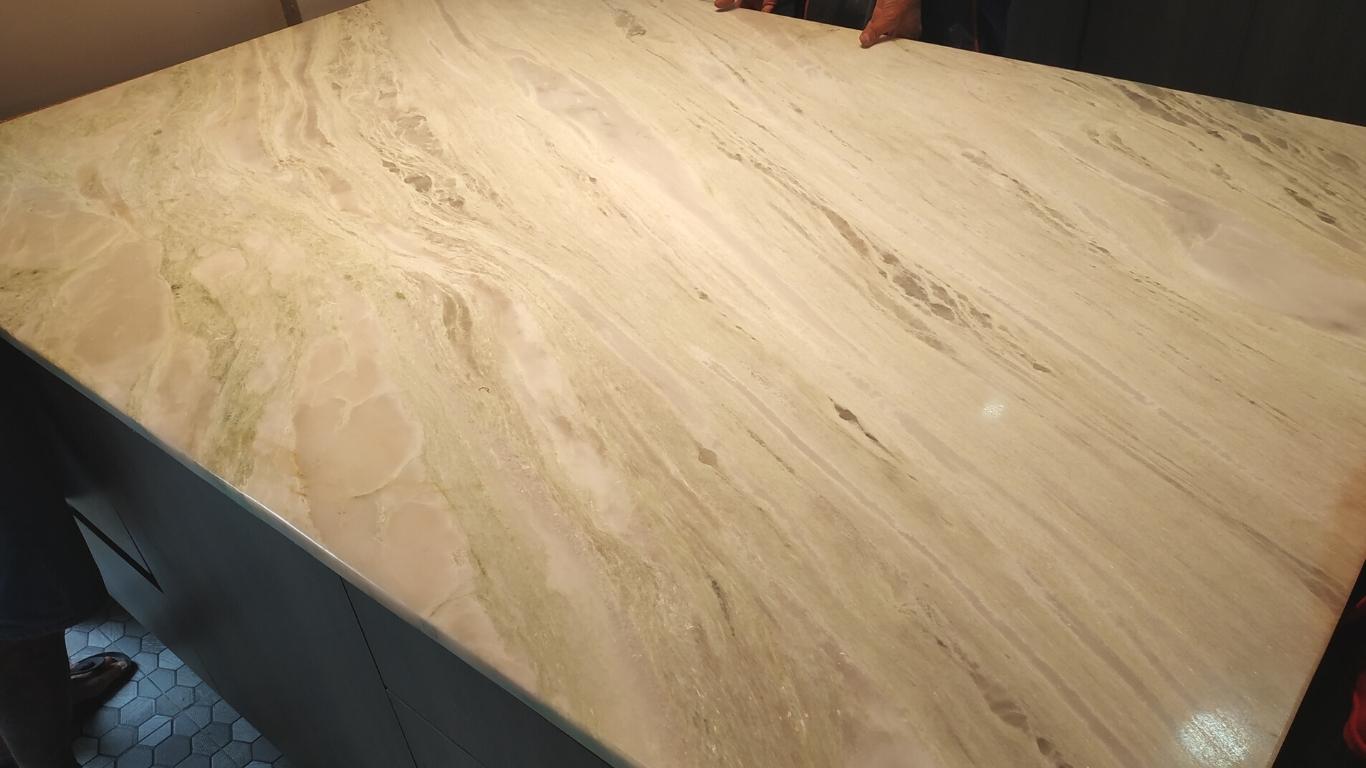 Credit: Spaces Kitchen and Wardrobe, Kuching, Sarawak
Onyx is a natural stone with beautiful veins but less porosity compared to marble so it works great in the kitchen with a layer of sealing. Prices are very competitive and it's easy to maintain. All my customers who chose this have no regrets, but I suggest you discuss with your kitchen designer when choosing slabs to use for your countertop as the veining may not be everyone's cup of tea.
7. Solid Wood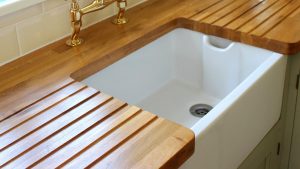 Credit: Spaces Kitchen and Wardrobe, Kuching, Sarawak
Solid wood is a valid option, depending on the type of wood you're using and where it's installed. I prefer to use this for islands, or dry kitchens as humidity is negligible or manageable. In Kuching, Sarawak, we have options for belian, rubberwood and even some imported varieties as well. I love the texture of wood; it always feels great!
8. Concrete Countertop
Credit: Spaces Kitchen and Wardrobe, Kuching, Sarawak
This is a personal favourite of ours! A concrete countertop has a raw finish, but can be so flexible. You can do so much with this. Acid-staining, pressing or even combining it with other materials. Suitable for indoor and outdoor kitchens with minimal maintenance.
I think homeowners need to keep an open mind about countertop selection. While cost is a major factor in choosing, I always believe that you should be focusing on quality and long term value. A well designed and fabricated kitchen will last decades with no issues. When you look at it from this perspective, you realize that this is going to be the most commonly used furniture in your house, and deserves to be accorded that respect and planning.
With that being said, countertops are not storage spaces 🙂 Don't install a beautiful countertop and then leave it with clutter.
*Note: We try to keep this section updated whenever we can, but sometimes we can just be a little busy. If you'd like our review/feedback on any particular countertop material, please let us know.